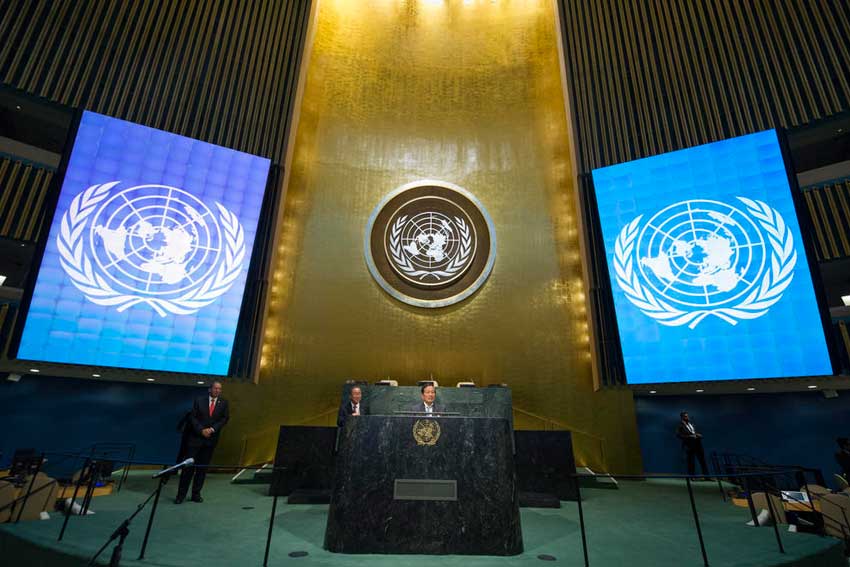 As General Assembly proceedings continued in NY on Thursday, UN Secretary-General Antonio Guterres convened more than fifty nations to sign the Treaty on the Prohibition of Nuclear Weapons.
The Philippines was among 121 United Nations member-states that adopted the treaty, the first legally binding global agreement to comprehensively prohibit nuclear weapons with the goal of total elimination of such weapons.
Manila was among the 121 United Nations member-states which agreed to the prohibition amid tensions over North Korea's nuclear and missile tests.
The treaty was adopted in July by two-thirds of the 193 United Nations member states after months of talks, which the US, Britain, France and others skipped.
Supporters of the pact say it's time to push harder toward eliminating atomic weapons than nations have done through the almost 50-year-old Nuclear Non-Proliferation Treaty.
The treaty will be applied by 90 days after it has been signed by at least 50 countries. The U.N. treaty office says 51 countries are expected to sign during Wednesday's opening day.
"We commit ourselves to continuing to work for a world free of the threat of nuclear weapons".
The island and 40 other States endorsed the initiative adopted on July 7, which prohibits the development, testing, production, acquisition, possession, storage and transfer, as well as the threat of use of those lethal devices considered a serious danger for human survival.
"A CTBT that is in force would be a milestone on the road to a world free of nuclear weapons". Tijjani Bande, said it was sad that "there were countries that still have nuclear weapons and refused to give them up".
Peter Maurer, the president of the International Committee of the Red Cross, also participated in the ceremony. After observing a moment of silence, participants held up origami cranes and papers with messages demanding that countries sign the treaty. "There remain some fifteen thousand nuclear weapons in existence".
Nuclear weapons have defied attempts to contain their spread since the United States dropped two atomic bombs on Japan in 1945, ending World War II.
Since its adoption in 1996, 183 States have signed the Treaty and 166 States have ratified it.
Leaders from around the globe began adding their signatures to a treaty that bans nuclear weapons, although the world's nine nuclear-armed countries declined to sign it and denounced it as dangerously naive.