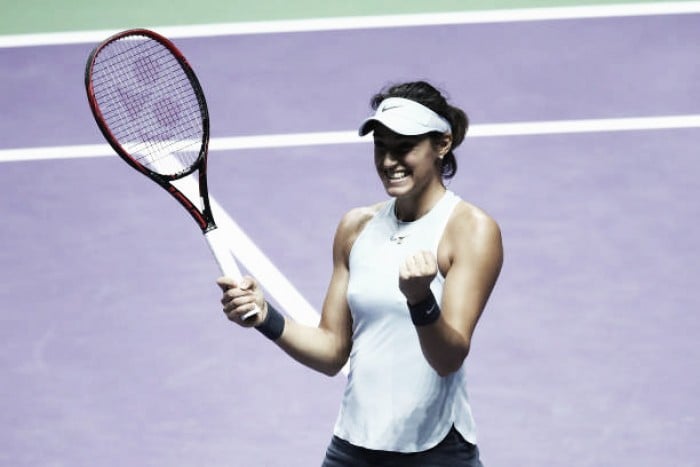 While many saw her as a favorite to win this year's WTA Finals in Singapore, she sees an unexpected upset during her final match in the round robin stage.
Garcia defeated Caroline Wozniacki 0-6, 6-3, 7-5 in the early Red Group match, giving both 2-1 records.
Thus, Karolina Pliskova in the 1/2 final of the tournament will play against Caroline Wozniacki and Caroline Garcia will meet with Vinus Williams. Despite not reaching the semifinals, Halep will retain the No. 1 ranking unless Pliskova wins the title, which would make her the year-end No. 1.
"I just felt 100 percent that the court is not for me and I can not finish a point", the Romanian said. "I felt I got back into it a little bit to make it 4-2 in the second". "She played really well, and she deserved to win".
Said Garcia: "I was feeling like she (Wozniacki) was missing nothing". I didn't feel the ball, I don't know why. "It means a lot (to win)".
To secure a place in the semi-finals, Garcia needs the already-eliminated Ukrainian player Elina Svitolina to defeat Romanian Simona Halep, world No.1, in a later match, reports Efe.
It was a stellar comeback from Garcia, who blew two chances to win the first set tie break.
Simona Halep of Romania hits a return against Caroline Wozniacki of Denmark during the WTA Finals tennis tournament in Singapore on October 25, 2017.
"It was kind of weird, actually, to be here". "I qualified last minute, two weeks before". So probably when I finish the tournament, I will, you know, have questions for my team and for myself, of course, what I did wrong, because, you know, this kind of matches I played, they were, like, really awful tennis from me. "That's why I think I won these (last) two matches".
Asked about the battle for top spot in the rankings, Halep said: "I found out I'm close to finishing number one - I thought I would be like number four after this tournament, but now I have a good chance".
But the match took an unexpected turn in the second set when Wozniacki had a time violation and argued with the umpire during the third game.