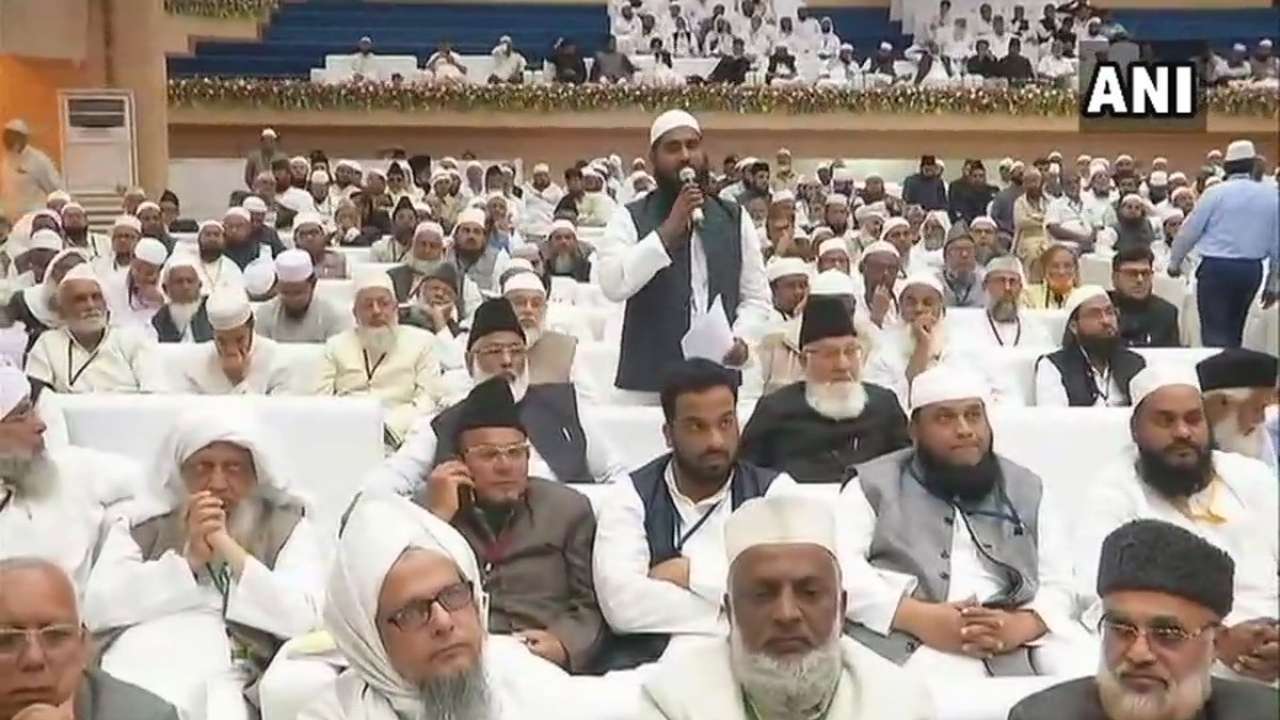 The All India Muslim Personal Law Board (AIMPLB) on Friday rejected a compromise formula presented by Maulana Salman Nadwi, one of its prominent members, on the peaceful resolution of the Ayodhya dispute. The matter will be heard next on March 14.
"We are treating it only as a land dispute".
The Supreme Court on Thursday said it will deal with the Ram Mandir-Babri Masjid case as a pure land dispute and refused to hear it on day-to-day basis.
The Supreme Court also told the parties in the Babri Masjid-Ram Janmabhoomi dispute that it will deal the case as a "pure land dispute" and indicated that impleadment applications of those which were not before the HIgh Court would be dealt later.
Ravi Shankar had also, in November last, met Uttar Pradesh Chief Minister Yogi Adityanath who then said "everyone knows where the talks would lead to", especially when the matter is pending before the Supreme Court.
Additional Solicitor General Tushar Mehta appearing for the UP government submitted that 504 transcripts including Ramayana, Bhagwad Gita and Mahabharata and other scriptures had already been translated into English and furnished. He also said it was not the tradition of the Bar. The court adjourned the case for March 14 at the request of advocate Ejaz Maqbool who pointed out English translations of several books and documents that needed to be referred were not available.
A civil suit for deciding the title of the property on which the Babri Masjid stood before it was demolished on 6 December 1992 had been filed before the high court.
The 32 petitioners include slain filmmaker Safdar Hashmi's brother Sohail Hashmi, documentary maker Anand Patwardhan, academics Ganesh Devy, Jayati Ghosh, Kalpana Kannabiran, Muniza Khan and G Haragopal, editors Om Thanvi and Kumar Ketkar, businessman Cyrus Guzder, writer Kiran Nagarkar, Rupa Mody whose son, Azhar Mody went missing during the 2002 Gujarat riots and many other eminent personalities from diverse backgrounds.
While suggesting that an out-of-the-court settlement is possible in the Ram temple-Babari Masjid dispute, Nadvi said the courts do not join people's heart as the verdict is always in favour of one and against the other. "There are 700 cases pending where citizens are crying for justice", said CJI Misra, clarifying he was not commenting on the importance of the Ayodhya case.