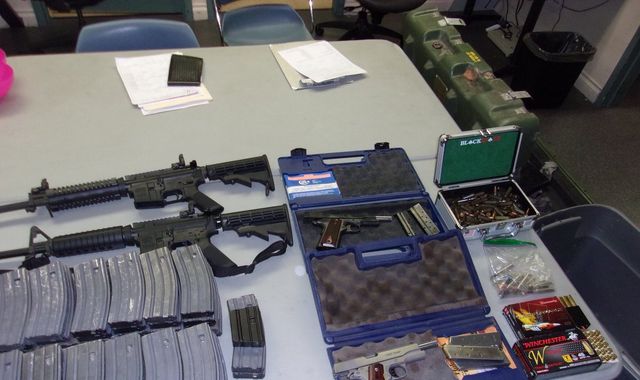 "The safety officer did engage the student, and the student did comment that in three weeks he was going to bring a gun to school, " indicating he was going to "shoot up the campus, " Jacobsen said.
A plot by a "disgruntled" student who was planning a mass shooting at a Southern California high school was thwarted after a security guard overheard a conversation, authorities said Tuesday. Deputies were called, and an investigation resulted in finding a collection of weapons and ballistic evidence at the student's home, Los Angeles County Sheriff Jim McDonnell said at a Wednesday news conference.
He was said to be angry about a teacher's issue with headphones in class.
Officers found two AR-15 assault rifles - the same weapon allegedly used by Parkland gunman Nikolas Cruz last week - along with two handguns and 90 high-capacity ammunition magazines.
School guard Mr Chavez told reporters: "I'm not hero".
One of the guns was registered to the teen's 28-year-old brother.
McDonnell says the teen faces a charge of making criminal threats and the brother is accused of possession of an assault weapon and other violations.
Authorities have been grappling with a heightened awareness of threats nationwide since a deadly school shooting in Florida claimed the lives of 17 people, including 14 students.
Jacobsen told the Whittier Daily News he threatened "to come back and bring a gun". Jacobsen added that law enforcement was notified within 45 minutes of the incident.
It happened at the El Camino High School near Whittier, east of Los Angeles, just 48 hours after the Valentine's Day shooting in Florida left 17 students dead.
More details on this case are expected to be revealed Wednesday morning at a 10:30 a.m. press briefing.