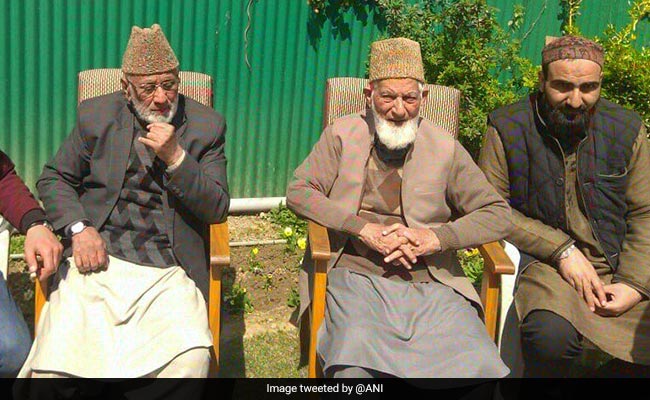 "The Tehreek-e-Hurriyat led by Syed Ali Geelani today held a meeting at its office in Srinagar and elected senior member Muhammad Ashraf Sehrai as the party chairman", the ANI news agency quoted a Hurriyat spokesperson as saying.
Geelani would, however, continue to be chairman of the All Parties Hurriyat Conference (APHC) that is a strong separatist organisation in Kashmir.
Geelani and Sehrai formed the Hurriyat in 2007 after parting ways with Jamaat-e-Islami.
Meanwhile, a statement issued by the TeH said in a unanimous decision taken in an extraordinary meeting of its highest decision making body (Majlis-e-Shoora) of Tehreek-e-Hurriyat appointed Mohammad Ashraf Sehraie as interim Chairman, till the organizational elections, to be held late this year.
"So, I wilfully step-down from the chairmanship and advise the "shoora" (council) to arrange an alternative at the earliest", the hardliner said. "I extend my fullest cooperation and honest wishes to the would-be leadership of the organization", Geelani, as per the TeH statement said.
There were many contenders, including his son Naeem Geelani, Democratic Freedom Party head Shabir Shah and Muslim League chairman Masarat Alam, who were tipped to succeed Mr. Geelani as the TeH's chairman.
In November 2015, Geelani was elected as lifetime chairman of the Tehreek-e-Hurriyat.
Geelani's son-in-law Altaf Fantoosh was said to be the one in charge of party operations to a good extent. They are now detained in Tihar Jail in New Delhi. Geelani parted ways from Hurriyat Conference saying that several leaders of the grouping tacitly supported Assembly elections in 2002.
Geelani has been viewed as a key separatist leader in Kashmir Valley and has been vocal on advocating Kashmiri separatism.