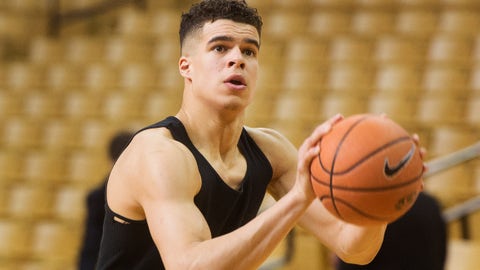 Missouri's 6-foot-10 star freshman - who hasn't played since the season opener - is set to play in the Tigers' conference tournament opener Thursday.
Porter has been out since the Tigers' season opener, when he played two minutes and left the game with a back injury.
His back injury made it likely Porter would elect not to return in 2017-18, as he is still slated as a projected lottery pick in the 2018 NBA Draft.
"He could play 20-25 minutes", Martin told reporters, via ESPN. "Unless the trainer or Mike says otherwise, he's playing".
Without Porter, Missouri went 20-11 during the regular-season slate, putting themselves in position for an NCAA Tournament berth.
Even with his injury, many National Basketball Association draft analysts have Porter going in the high lottery because of how grand his upside is. Tipoff will be about 30 minutes following the first game of the day, which begins at 1 p.m. ET.
Last month, his doctor cleared him to return to all basketball related activities.
Missouri faces the victor of Wednesday night's Georgia-Vanderbilt game.
After finishing the regular season with a 20-11 record, Missouri is now projected as a No. 8 seed in the NCAA tournament by ESPN's Joe Lunardi.