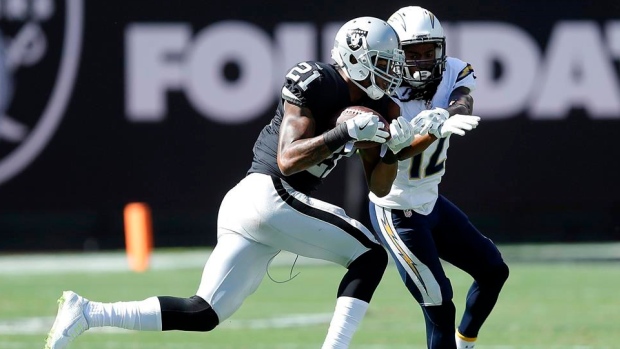 Following a domestic violence incident in Nob Hill last week, Oakland Raiders linebacker Aldon Smith pled not guilty in court on Monday.
Smith - who had signed a $40 million contract with the Raiders in 2016 - was facing up to 7 years behind bars.
The top free-agent cornerback will sign with the Jets on Wednesday, and he'll hardly go for cheap. The person spoke on condition of anonymity because the team hadn't announced the move.
The Oakland Raiders released the cornerback after he plead guilty to a felony assault charge. Smith is primarily a blocking tight end, and Gruden professed his liking for those at the combine in Indianapolis.
The report also said the Raiders will cut ties with Smith and that the cornerback will be sentenced to one year in jail and three years of probation as part of his plea agreement. Two witnesses testified during a preliminary hearing in December that Smith stomped Woods' head as he lay bleeding and unconscious.
Smith struggled again early in 2017 and was replaced in the starting lineup by TJ Carrie, before finishing the season strong after John Pagano replaced fired defensive coordinator Ken Norton Jr. for the final six games.
During his stint with the Rams, Carrier recorded just 71 receiving yards on eight catches and 11 targets across 14 games of action.
Smith first reached the National Football League as a member of the Miami Dolphins and spent the first four years of his career as their starting cornerback.