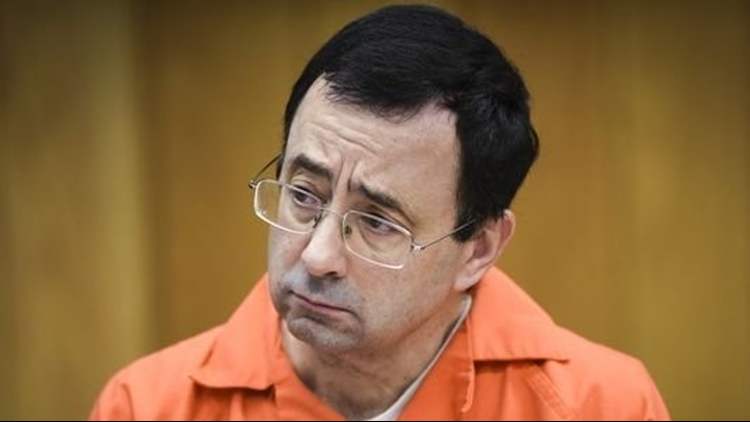 A Michigan State board of trustees meeting got heated Friday when Kaylee Lorincz, who was sexually assaulted by former university doctor Larry Nassar, alleged that interim MSU president John Engler had offered her $250,000 to drop her lawsuit against the school during a meeting for which her lawyer was not present.
Lorincz said Engler's offer occurred on March 28 when she and her mother went to campus to sign up to speak at Friday's meeting, according to ESPN.
Mr. Engler then looked directly at me and asked, "right now if I wrote you a check for $250,000 would you take it?" She says he told her he met with Rachel Denhollander, and that she gave him a number. Lorincz said she asked Denhollander about the incident, and that Denhollander said she had never met with Engler or given him a dollar amount.
At Friday's hearing, though, Engler expressed regret over his school's initial statement in that response, which "provided an unnecessary amount of detail" that may have violated the woman's privacy. When he asked her to step away from the lectern after her allotted three minutes were up, protests - punctuated by chants of "Let her speak!" - erupted in the meeting room that held a gathering of an estimated two dozen student activists and parents of survivors of Nassar's abuse. "President Engler and his lawyer had just attempted to coerce me into settling without my lawyer present". I am sorry if anything said during the meeting was misunderstood.
"There's new leadership in nearly all of these places, so I think the ability of Michigan State to respond is dramatically different and better than it was a year ago", he said.
During Friday's meeting, Engler and members of his administration provided the board with updates on efforts the university is taking in an attempt to rebuild trust in the wake of the Nassar scandal.
"I think that the general attitude towards victims of sexual assault has not changed, and until that attitude changes, survivors will not feel safe here", she said. Regardless, since mediation of all claims begins on April 25, there will be an appropriate place for discussions concerning what would be a fair and equitable resolution. "We'll be working for an equitable settlement to allow all the survivors to move forward in their process of healing".
"I felt like I was being bullied into saying something and that if Rachael gave him a settlement amount, it was OK for me to do it, too", Lorincz said in a prepared statement that she read aloud.
Lyons said he had not yet discussed the matter with Engler.
She said Engler rolled his eyes, and said it was "only a slap on the butt".
"You created this, not me". Protesters at the meeting gasped audibly. My jaw dropped, and I said "just a slap on the butt? Larry did that to me too and look how that turned out, '" Lorincz told the Board of Trustees.
Strampel is facing multiple charges, including sexual harassing female medical students, having pornography on his work computer, and failing to properly enforce safety protocols and procedures when he worked as Nassar's boss, even after he told the university he would do so following a Title IX complaint against Nassar in 2014.
There have been several instances of MSU Board of Trustee meetings being interrupted by students and staff this year. It was like a 45 minute, hour-long meeting (I had with Engler) and he probably brought up money like 12 times.
"My interpretation of the discussion was not that he was saying I'm offering you $250,000, it was a discussion about the civil litigation and how it was going on", said Guerrant, who added that she was in attendance for the meeting.
"We need a change in who's sitting in front of us", one man shouted in reference to Engler and the board.