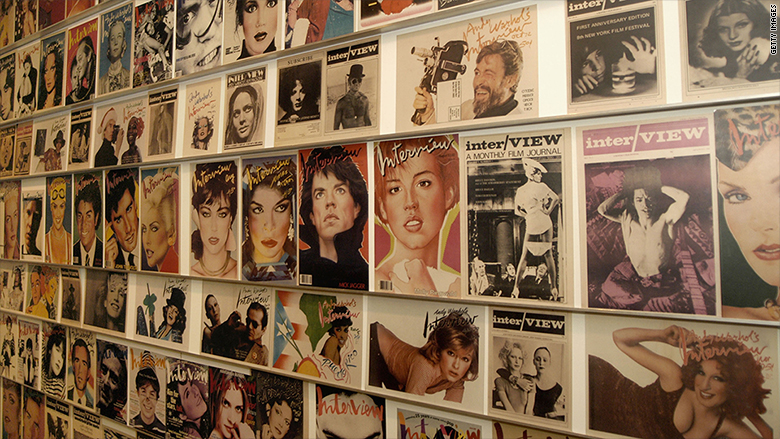 Warhol co-founded the magazine with British journalist John Wilcock in 1969, but its trademark cover - featuring close-up images of celebrities' faces, the word "Interview" in bold script overhead - began in 1972.
The news of the closure was broken to the public by staff members who took to social media in light of the news, offering their email addresses for freelance services.
Former editorial director Fabien Baron sued the magazine for $600,000, alleging both he and his wife were not paid for work undertaken after he was brought on in 2009 to up circulation, which he did.
In 1989, billionaire art collector and Warhol admirer Peter Brant purchased the glossy art and culture magazine from Warhol's estate. According to the New York Post, the magazine was evicted from its Soho office in February after Brant Publications apparently stopped paying the landlord.
Interview magazine is no more. It's also understood that Karl Templer in April left his position as Interview's creative director because he was owed at least $280,000.
Prior to his departure from the magazine in April, Baron had worked at Interview for 10 years. "Baron claims the magazine owes him "over $500,000 from invoices between 2015 and 2018" and owes Poiblanc "$66,000 as a stylist". In 2016, President Dan Ragone sued the magazine for unpaid wages of $170,000, and former employee Deborah Blasucci said she was sacked from her role as a senior executive for "making too much money".
In 2016, Interview's former president Dan Rangone sued the publication for $170,000 in unpaid wages, according to WWD.
But in its glory days, little conferred sophistication like appearing on the cover of Interview, then named Andy Warhol's InterVIEW.
Interview Editor Ezra Marcus told CNNMoney that staffers were informed that the magazine is filing for Chapter 7 bankruptcy in a meeting on Monday.
The wonderful interviews I got to do as a contributing editor for #interviewRussia and Interview Germany... He and his then-wife Sandra bought Interview shortly after Warhol's death in 1987. Over the years, it featured conversational interviews with celebrities like Liza Minelli and Grace Jones and other features, including Warhol's trademark "15 Questions" interview.