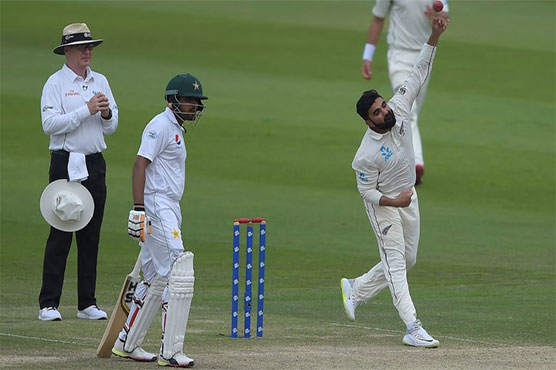 The contest was perfectly in balance when New Zealand started the day at 56/1, 18 runs adrift of Pakistan, with Kane Williamson and Jeet Raval at the crease.
Debutant spinner Ajaz Patel bagged a five-wicket haul to help New Zealand clinch a narrow four-run victory over Pakistan in the opening Test of the three-match series in Abu Dhabi on Monday.
Consider that New Zealand's 153 was the lowest ever first innings score by any side in Abu Dhabi. With Mohammad Hafeez and Haris Sohail out, Azhar Ali and Asad Shafiq built an 82-run stand for the fourth wicket, taking Pakistan to safer shores.
But cricket's has its own unpredictability as we have experienced over the years when a possible victory is snatched from the jaws of defeat and that goes for both the teams fighting to take the upper hand.
"It certainly was dramatic", Williamson reflected. "We had an opportunity (to win) but we will try not to repeat mistakes in the next two Test matches". "Throughout the four days, both teams were put under pressure".
"It's a great advertisement for Test cricket".
The second Test will be played in Dubai from November 24-28 before the teams return to Abu Dhabi for the final Test from December 3-7. Eventually, Ali was the final wicket to fall, as New Zealand sealed a famous win and provided one of the most nail-biting betting events in recent memory.
"It's very disappointing to lose it", Pakistan captain Sarfraz Ahmed said.
For this we ought to compliment the way Yasir and Hasan bamboozled the batsmen trapping them in front of the wicket and even cluttering their stumps at times.
It must be said though that Pakistan bowlers despite the disappointment of being unrewarded in the second session yesterday did not let the opportunity slip once the stubborn partnership was dislodged.
"But then we lost three wickets and it was important for set players to play on but that did not happen and you have to praise New Zealand bowlers, especially Patel".
Ajaz Patel and the rest up the Black Caps will line-up for the second Test in Dubai starting on Saturday.