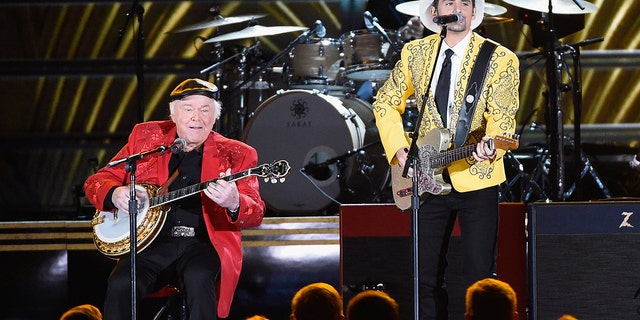 Clark served as co-host of Hee Haw in all three of its incarnations; the series began on CBS in 1969, then transitioned to first-run syndication in 1971, where it ran through 1993. He often had musical guests on the show including Johnny Cash, Garth Brooks and Loretta Lynn. His father, who played in a square dance band, took him to see the National Symphony Orchestra and military bands. Clark took up the banjo, guitar, and mandolin (and, later, fiddle and harmonica) at age 14, and by age 15 he was not only playing in his father's square-dance band but had won several national and worldwide banjo championships. His most notable co-host was fellow country musician Buck Owens, but while Owens left the show in 1986, Clark stayed on until the end.
In 1982, Clark won a Grammy for best Country Instrumental Performance for "Alabama Jubilee", and opened his own theater in Branson, Missouri the following year.
In the 1950s, Clark played in bands in the Washington, D.C., area. Among his solo hits were "Yesterday When I Was Young", "Come Live With Me", "Honeymoon Feeling", and "The Tips of My Fingers".
Amid the success of "Hee Haw", Clark toured the Soviet Union, bringing country behind the Iron Curtain in the mid-1970s, and starred in the Western comedy "Uphill All the Way" with singer Mel Tillis. Clark also found crossover success with the 1969 hit "Yesterday, When I Was Young" - a song he performed at Mickey Mantle's funeral in 1995. Though he was no slouch as a comedian, as Hee-Haw and appearances on The Odd Couple and The Beverly Hillbillies attest, it's ultimately his wonderful musical skills that will be his legacy, as he proved with regular performances at his theater in Branson throughout the nineties and 'aughts. In 1960, he got the chance to front the band of country singer Wanda Jackson. Many others would follow the example of Roy Clark Celebrity Theatre. He also performed regularly in Las Vegas. He got his first recording contract, with Capitol Records, in 1962.
"We became a part of the family". Clark told The Associated Press in 2004 that "Hee Haw" was like a family reunion. This put my face and name together'.