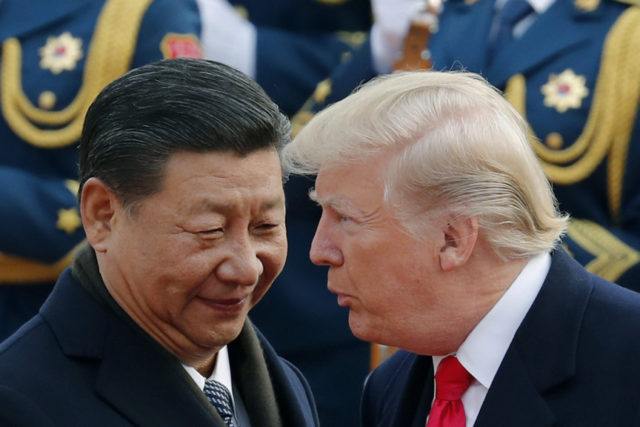 The US is preparing to announce by early December tariffs on all remaining Chinese imports if talks between Trump and Xi fail, according to three people cited by Bloomberg.
Fear that the Trump administration will announce tariffs on all remaining imports from China helped knock US stocks from a strong early gain to another sharp loss Monday.
Further, a recent survey reported by Reuters shows that 85 percent of US businesses surveyed say they have suffered from the trade war's tariffs, and almost half of the companies reported increases in non-tariff barriers, as well. The sources stressed however that the new tariffs have not yet been finalised.
Among industrials, Boeing sank 6.6% to $335.59.
Last week The Wall Street Journal reported that the U.S.is demanding that China produce a "concrete proposal to address Washington's complaints about forced technology transfers and other economic issues". Ten percent tariffs on $200 billion in imports that took effect in September are due to increase to 25 percent on January 1. The Russell 2000 index of smaller-company stocks fell 6.51 points, or 0.4%, to 1,477.31.
The Dow Jones Industrial Average was up 206 points to 24,649, the S&P 500 index gained 0.8 percent, while the Nasdaq Composite Index was also up 0.8 percent.
Over the past year, said Cui, "we have heard enough of trade war threats, assertions about strategic rivalry, sabre rattling in the South China Sea, and even unfounded accusations against Chinese students and scholars". Figures from the previous year, the most recent data available, showed 44 per cent of Chinese respondents held unfavourable views of the US.
The ambassador made no specific remarks about the current trade stand-off between the U.S. and China.
Unfortunately, unilateral demands that sabotage the likelihood of an agreement will translate into further escalations of the trade war, and that will translate into higher prices for everything Americans import from China.
Germany's DAX rose 1.2% as Volkswagen, Daimler and BMW made big gains. Its stock traded above $2,000 a share in early September and has fallen 24.5 percent since then, its worst decline in two and a half years.
Brazil's Bovespa rose in morning trading after far-right politician Jair Bolsonaro was elected president, but it later turned lower and lost 2.2 percent. Miners and energy companies led the way as nearly every sector on the Stoxx Europe 600 Index climbed. Brent crude, used to price global oils, lost $1.14 to $76.20 per barrel.
Brent crude futures fell $1.34 to $76.00 a barrel, a 1.7-per-cent drop.
Bond prices slipped. The yield on the 10-year Treasury note rose to 3.08% from 3.07%.
CURRENCIES: The dollar strengthened to 112.95 yen from 112.37 yen late Monday.